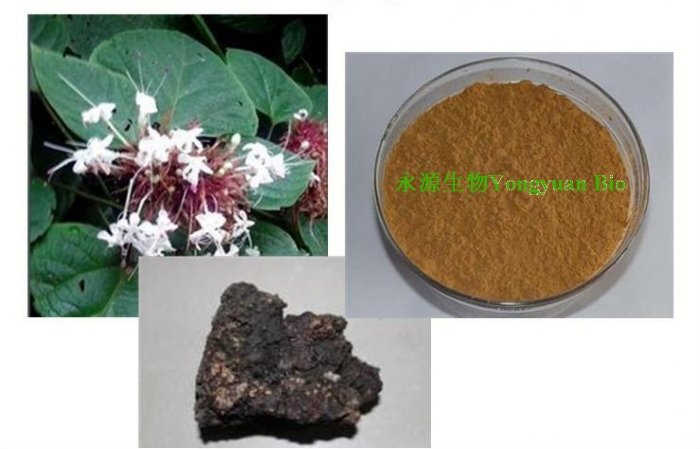 CODE:
YYR273
NAME
Shilajit Extract
Category:
Ratio herbal extract
SIZE:
10:1
Product name: Shilajit Extract
Latin Name: Asphaltum
Comum Name: Shilajit, Mineral Pitch, Asphla
Appearance: Brown Fine Powder
Specification: 2.5%, 5%, 10% 50% 55% Fluvic acid,10:1
Test Method: HPLC,TLC
Brand:Yongyuan Bio.
Active ingredient:Fulvic acid
Description:A kind of asphalt substance, which is a kind of dark red sticky substance composed of herbaceous plant and organic substance. It tastes bitter, and it smells like old cow urine. The plant name of Shilajit is Asphaltum (tar). According to the mineral superiority of the source rock, it is divided into four categories: Sauvarna, Rajat, Tamra and Lauha. The Lauha Shilajit or blackish-brown Shilajit are common and should be most effective. In Ayurveda, Shilajit are described as four mineral products: gold, silver, copper and iron.
(1) Gold Shilajit is red.
(2) Silver Shilajit is white.
(3) Copper Shilajit is blue.
(4) Iron Shilajit is black brown.
Function:Strengthen the immune system, arthritis, hypertension, anti-aging, control blood sugar levels, improve brain function, obesity, bone tissue healing, kidney disease, urinary tract problems and wound healing.
Application: Shilajit has a good conditioning for the prostate, commonly used in health care products for men, such as the "forefront of Ashoka", male to dredge the blood cell activity, anti-inflammatory effect.

Storage: Store in sealed containers at cool & dry place. Protect from light, moisture and pest infestation
Shelf life: 2 year when properly stored.
Packing:25KG/Drum, Or according to customer requirements.
We specialized in manufacture and export of herbal extract with high quality and competitive price.
If you have any questions, welcome to contact me by sending email to yysale2@herbalextractcn.com

TEL:+86-29-68535310 FAX:+86-29-88346470
Shaanxi Yongyuan Bio-Tech Co., Ltd. all right reserved.
admin
The information provided by this website has not been evaluated by the Food and Drug Administration. Products contained in this website are not intended to diagnose, treat, cure or prevent any disease, and are, in no way, intended to replace a physician's care or prescribed medication.   
Support by zitian.org